Get Free Help Online To Find The Best Cheap Dodge Dart Car Insurance Quote
The average insurance rates for dodge dart are about $1,500 per year or $125 per month for 2016 model. Among the 37 small vehicles in the compact cars segment, the Dodge Dart is ranked 35. So, on an average, smaller cars cost about $1,244 to insure for each year which means that the Dodge Dart is expensive to insure by about $256 every year as compared to other vehicles in the same category. But there are a lot of factors that go into determining premiums for drivers. This implies that the insurance rates provided to drivers may vary greatly at an individual level.
To get an idea as to how Dodge Dart auto insurance rates might vary by driver age and deductibles, you may just have a look at the below mentioned table.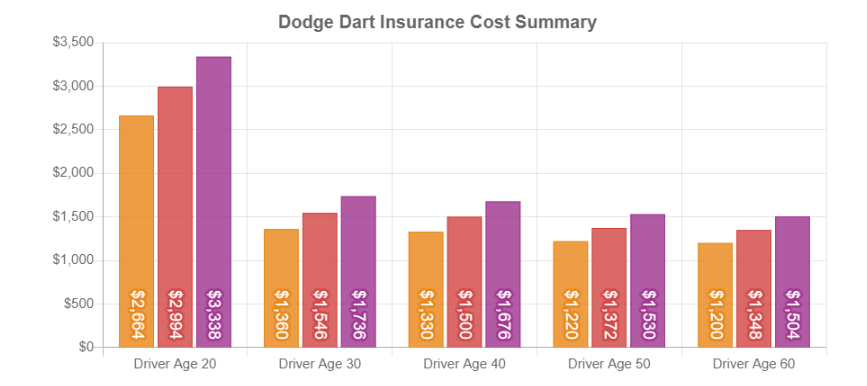 From the above information, you come to know that the insurance cost for Dodge Dart cars is the highest for 20 year old drivers and cheapest for those over 60.
Besides, Dodge Dart vehicle insurance premiums may also vary by its make and model. The following table may give you a brief idea regarding the same.
Dodge Dart Insurance Cost for 2013-2016 Models
| Model Year and Vehicle | Annual Rate | 6-month Rate | Monthly Rate |
| --- | --- | --- | --- |
| 2016 Dodge Dart | $1,500 | $750 | $125 |
| 2015 Dodge Dart | $1,402 | $701 | $117 |
| 2014 Dodge Dart | $1,324 | $662 | $110 |
| 2013 Dodge Dart | $1,118 | $559 | $93 |
To determine auto insurance rates for your Dodge Dart car, talk to a local expert today. Atozinsuranceusa.com can assist you to fix free consultation with a competent agent online within minutes.